Ella, feelin' groovy....
Full entry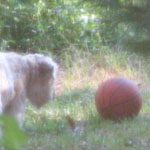 Ella, closing in for the kill...
Full entry
When Laura and I are out walking Ella and a kid asks us what kind of dog she is, sometimes we say, "She's not a dog, she's a bear!"
Full entry
About this Archive
This page is an archive of entries from August 2005 listed from newest to oldest.
June 2005 is the previous archive.
September 2005 is the next archive.
Find recent content on the main index or look in the archives to find all content.