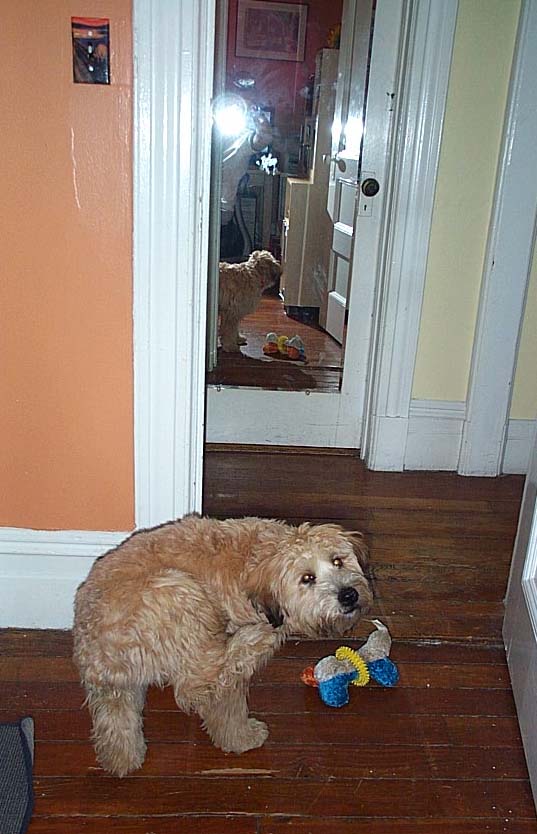 It was twelve years ago today that I posted my
first-ever blog entry about Ella
. I hadn't met her yet. I was traveling on the West Coast. Laura was visiting her parents outside of Chicago. The neighbors asked if she would adopt their puppy. She said yes. History was made.
Laura flew Ella home to New York, and I didn't meet her until I arrived home a couple of days later. It was love at first sight, of course. This is the first photograph of Ella I ever took:
We've had plenty of ups and downs over the years—health issues, food allergies, several moves, dog attacks, bouts of fearfulness, surgeries, and, worst of all, burs—but through it all, Ella has remained a sweet, lovable, adventurous, bouncy, curious, intelligent, regal, goofy, strong-willed but good-hearted dog.
She's slowed down a little, but she's still in good health, and she'll still give a squirrel a run for its money. Here she is now, at age 12, in a photo taken by her dogwalker:
Full entry
About this Archive
This page is an archive of entries from April 2016 listed from newest to oldest.
December 2015 is the previous archive.
December 2016 is the next archive.
Find recent content on the main index or look in the archives to find all content.