Hi, gang! Laura and I are happy to announce that the new Ella calendar for 2017 is available now from Lulu.com. It features thirteen months of all your favorite Ella photos from from the past year—all right, all right, our favorites—and for a limited time you can get it for the discounted price of only $11.99 plus shipping and handling. What a fetching bargain!
Click below to buy now, and you can keep Ella-scoping out your favorite soft-coated wheaten terrier on her adventures out and about in Queens all year long.
Ella-Scope 2017 13-Month Calendar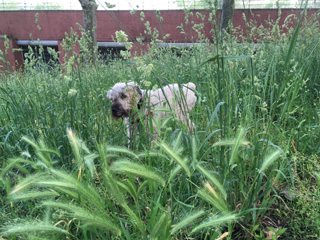 But that's not all! If you just can't get enough of Ella, we've created an alternative calendar for the new year—the Ella-Presence 2017 13-Month Calendar! Same great low price! Thirteen super-cute photos of Ella at home!
Ella says, "Rowf!" (By which she means "You're the best!")
Crossposted from Inhuman Swill