The new Ella calendar for 2018 is available now from Lulu.com. It features thirteen months of all your favorite Ella photos from from the past year, and for a limited time you can get it for the discounted price of only $11.99 plus shipping and handling.
Ella-tivity 2018 13-Month Calendar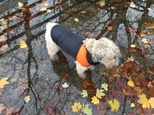 But that's not all! If you just can't get enough of Ella, she's created an alternative calendar for the new year—the Ella Good! 2018 13-Month Calendar! Same great low price! Thirteen more super-cute photos of your favorite soft-coated wheaten terrier!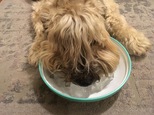 Ella thanks you from the bottom of her warm, fuzzy heart.  
Crossposted from Inhuman Swill